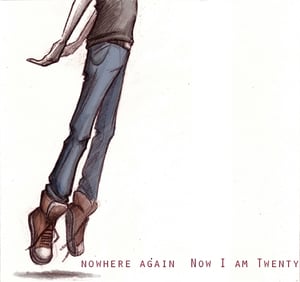 £

3.00
Nowhere Again's 'Now I am Twenty' EP, for fans of grunge, post-rock, shoegaze and/or progressive rock. We're told it's pretty good.
"Nowhere Again have got there on their first offical release...[i]t's at times like this that you come to lament the popularisation of the word 'awesome' to describe things that really aren't, because this actually is."
[Manchester Music - after we gave them an exclusive first-look]
Tracklisting:
1. Last Human (I: Flood/ II: Ark/ III: Whisper)
2. Eighteen
3. Hardman Square
4. Heliopause
5. June
6. Plans
'Plans' is taken from their 2009 single (COR001) and 'Eighteen' is a new recording of the b-side.
Cat No: SSDCD05
Orders will be shipped on the week of release (May 9th).
If you're curious as to why we keep mentioning 'pop-out' and why these are relatively dear to produce, we recommend checking out http://www.acdsleeve.com/. Warning: if you click this link you will almost definitely want to buy one afterwards. Just saying.
Equally, go to our website and click on our Youtube channel for a short preview video.